Thank You
Medical Professionals!
Medical Professionals $500 Bonus Cash
As a thank you to those working on the front line of this virus, we here at Charles Allen Ford are pleased to announce a national $500 Medical Professional Bonus Cash Incentive!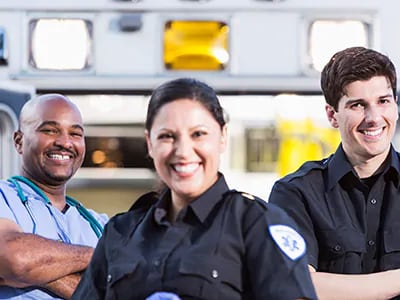 Who is eligible?
The Medical Professionals affinity group is made up of approximately 8.2 million people who work in the national healthcare network. Similar to healthcare groups identified by competitive automakers, Fords new Medical Professionals group consist of all healthcare roles as defined by the US Bureau of Labor Statistics.
The Charles Allen Ford Difference
In addition to these roles, we realize that there are other positions throughout the national healthcare network that are on the frontlines, most notably hospital general staff, administrators, clerical positions and receptionist - we have included these in our Medical Professionals universe. The specific roles are outlined below:
Nursing Assistant
Licensed Practical Nurse
Nurse Practitione
ER Nurse
Home Health Nurse
Medical Assistant
Doctors
Cardiologist
Oncologist
Pediatrician
Surgeon
Therapist
Pharmacy Technician
Home Health Nurse
Clinical Laboratory Technician
Radiologist
Physical Therapist
Home Health Nurse
Clinical Laboratory Technician
Radiologic Technologist
Health Information Technician
Clinical Laboratory Technologist
Occupational Therapy Aide
Respiratory Therapist
Family Practitioner
Phlebotomist
Physician Assistant
Nursing Assistant & Orderlies
Cardiovascular Technologist
Medical Equipment Preparer
Nurse Anesthetist
Anesthesiologist
Athletic Trainers
Chiropractors
Dental Hygienists & Assistants
Dentists
Massage Therapists
Veterinary Doctors
Veterinary Assistants and Technicians
Hospital General Staff
Hospital Receptionist
Healthcare Administrators
Healthcare Administrative and Clerical positions
Details
Eligible Vehicles: All 2019, 2020, and 2021 Model Year Ford Vehicles
Stackability: This incentive stacks with 0% for 72 mo. special. No Tier Uprate APR Program. It also stacks with ICI private offers.
Subject to verification via ID or OneMagnify Manual Verification.
Make an Inquiry
* Indicates a required field
Hours
Monday

8:30am-6pm

Tuesday

8:30am-6pm

Wednesday

8:30am-6pm

Thursday

8:30am-6pm

Friday

8:30am-6pm

Saturday

8:30am-5pm

Sunday

Closed